"A book is a window through which one escapes," Julien Green
Recycling, cornerstone of the cycles.
The paper and glass industries have long had both feet in the circular economy. The circularity of the products, their recyclability, the endless recycling of glass and the renewable nature of paper put the materials at the forefront of the circular economy.
"Beginning and end coincide on the circumference of a circle," Heraclitus
Glass, paper and cardboard contribute to a sustainable society. Some examples are: recyclable packaging that protects goods and thus, for example, prevent food waste, or natural lighting and energy savings through insulation and the glazing of buildings …
The old paper and glass collected are increasingly recycled in increasingly efficient production processes. Eco-design, continuous optimisation of water use and increased energy efficiency are themes that occupy our companies on a daily basis.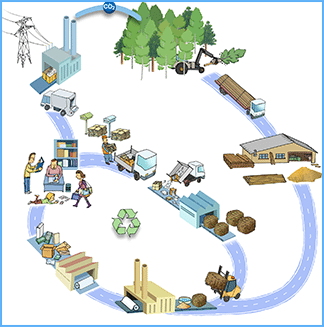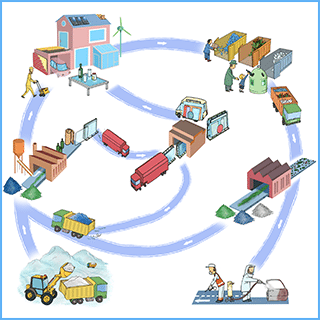 "Poetry is the art of capturing the sea in a glass," Italo Calvino
RAW MATERIALS ARE THE BEGINNING AND THE END
The most important raw materials for the production of paper are wood and waste paper, water and energy. More than half of the fibres used for paper production come from recycling. The necessary complementary fresh fibres are renewable. Water is needed in large quantities as a "fibre carrier" but is not consumed. After purification, 90% is discharged again. Energy is used in the form of electricity and steam. This energy is largely produced on site in efficient cogeneration installations. Did you know that the vast majority of the energy comes from renewable sources?

Glass is a natural, mineral and inert material that consists of three basic raw materials: sand, soda and lime. Depending on the product, up to 90% glass shards (cullet) can be added to this. The addition of cullet reduces the consumption of raw materials, CO2 emissions and energy consumption. Recycling every ton of glass leads to an energy gain of 25% and 300 kg less CO2 emissions.
Not yet convinced that paper and glass are examples of the circular economy?