Paper has been around for 2000 years. However, it continues to be ubiquitous in everyday life. Just think of the cereal box in the morning, the extensive range of hygienic paper or the newspapers, magazines and documents we read every day. Paper and cardboard protect the goods we need, it informs us, allows us to communicate and contributes to our hygiene.
In order to meet the demand for paper better, the paper sector uses complex industrial processes, cutting-edge technology is applied from diverse domains such as physics, chemistry, robotics, etc. This requires heavy investments in means of production.
This makes the paper industry a sector that is particularly capital-intensive and has an international character.
Paper is essentially a thin "felt" of cellulose fibres to which elements may be added to improve its quality or use properties. To make this "felt" or sheet of paper (4) (see the schematic), pulp is used, made from either waste paper (3) or wood. In the latter case, the pulp can be obtained by a cooking process for chemical pulp (1) or by a mechanical digestion process, for mechanical pulp (2).
These types of pulp are produced locally in the case of "integrated" producers or purchased on the pulp market (commercial pulp) (5) in the case of "non-integrated" producers.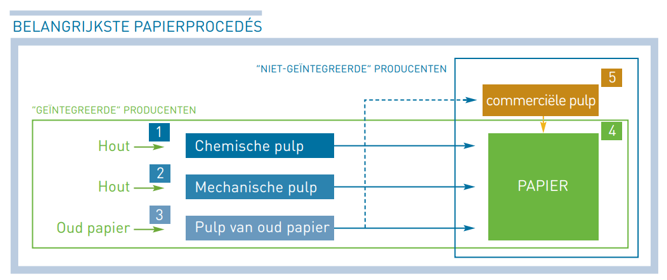 Reducing environmental impact
The companies in the Belgian paper sector have been committed for years to further improving their already far-reaching environmental efforts and thereby limiting the environmental footprint of their activities.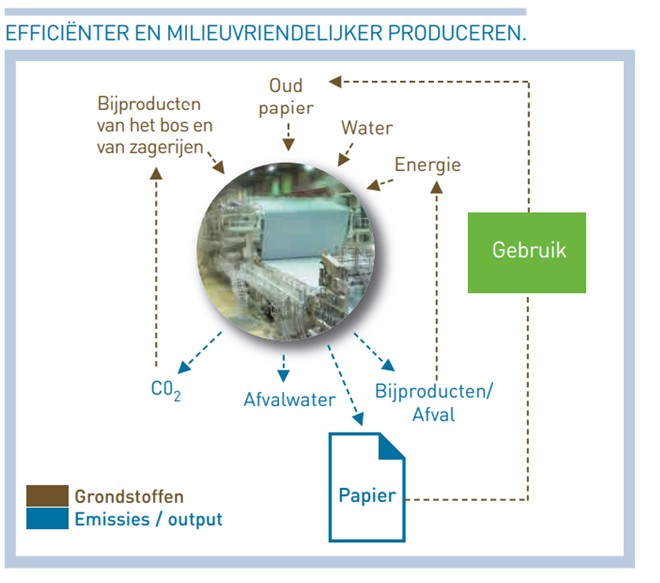 Specifically, these improvements focus on:
Efficient use of resources: wood, waste paper, energy, water, additives.
Objective: more efficient production
Reducing emissions, waste water, air emissions, by-products.
Objective: more environmentally friendly production.
This graphics shows the main raw materials and emissions of paper production schematically. They are also discussed in detail in this second part.
Read more about the following topics:
Since 1992, the mission of Paper Chain Forum VZW has been to disseminate information about the relationship between paper and the environment in the broadest sense of the word and more specifically: to clarify the harmonious and sustainable nature of this relationship and to inform the general public in an objective and well-founded manner.